Atlantic Yacht Basin's crew of master mechanics and craftsmen can address all of your repair needs in one convenient location.
From hulls and exteriors, brightwork and decking to engines and systems, AYB's crew can tackle any size repair on any size boat. We stock over 5,000 items in our marine store on premises, making it easier to get the job done quickly and with the right dealer-approved parts.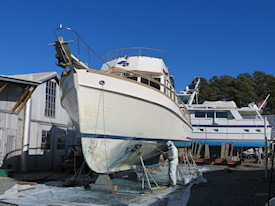 For custom jobs and repairs requiring special handling, we have twin-bay climate controlled spaces that allow us to bring our team together in one place to get the job done in an efficient and safe manner. Our high-capacity railway and haul out lifts allow us to accommodate boats up to 110 feet.
So whether you need something done quickly to get you back out on the water or have a major repair that requires extra time and attention, we can get the job done right every time.
Our on-site storage facility also allows us to securely maintain your boat while we work on it. Or you can combine your annual and seasonal storage needs with the upkeep, maintenance and repair needed to keep your boat seaworthy and preserve its value all in one place.
Our team specializes in blister repair including:
Soda Blasting
Peeling
Laminate replacement
Bottom Fairing
Barrier Coating
For more information, to schedule a job or to get a free quote, please contact James Taylor at (800) 992-2489 or info@atlanticyachtbasin.com.