Whether you are looking for routine maintenance and seasonal repairs or more complex special projects such as refits and restorations, AYB's expert crew will handle your boat with the skill, care and attention to detail upon which our reputation is built.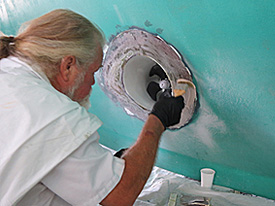 With fully equipped machine, carpentry and paint/refinishing shops, a skilled hauling crew, and a well-stocked marine store on premises, we are the choice of discerning captains and boat owners on the East Coast and around the world.
So talk to us about getting your boat ready to get out on the water, storage and repair in the off-season, or upgrading the value and enjoyment of your boat today.
No matter what the project may be, Atlantic Yacht Basin looks forward to working with you on your "boat list." And most of all, we love your boat like you do.
For more information or to get a free quote, please contact James Taylor at (800) 992-2489 or fill out the form below.