Captains and yacht owners everywhere trust Atlantic Yacht Basin to handle everything from basic upgrades to full refits and overhauls.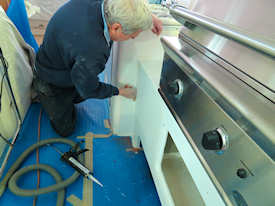 Our team of world-class mechanics handles a wide range of marine refits – such as replacing or giving your engine more muscle, adding stabilizers and bow thrusters, or revamping your electronics or heating/cooling.
Our master carpenters and craftsmen can upgrade both the look and the durability of your exterior, while giving you the new interiors and amenities that recreate the comforts of home.
So whether you have just bought a new-to-you boat, are looking to upgrade your existing boat, or are looking for a good alternative to selling and trading up, please talk to us about all of your refit needs.
We welcome custom projects and our team of experts looks forward to helping you to stage and plan your job so that you get the best results every time. For more information or to get a free quote, please contact James Taylor at (800) 992-2489 or info@atlanticyachtbasin.com.